Build a community of sports fans on your property and get the insight you need to deliver your business goals.
Build unique fan experiences
create value
Creating a unique fan experience is a driving force in the sports industry today, and just as important is the ability to keep those fans engaged year-round.
If it's in-season, your fans need a second screen, or multi-screening experience – which has gone from a growing trend to an expected behavior of viewers of live sporting events. These fans want to  read and chat about the event as-it-happens with other fans, experts, or moderators.
During the off season, fans want a place to engage with each other and debate the past season, share insights, and maybe even share their predictions about next season.
Take your sports coverage to the next level by adding powerful engagement tools and a truly immersive social experience across your app, website or OTT offering that keeps your fans on your site year round. With Viafoura's solutions we make it easy for you to become the go-to destination for fans, superfans, and the casual audiences.
Drive insight and purchases
unlock your data
Leverage the discussion taking place in your engagement suite to get insight into how your fans are feeling, what content they enjoy, and then drive even deeper to understand who is interested in purchasing tickets, fan apparel, or other merchandise.
Viafoura's solution generates powerful data and personas that enables you to get the audience insight you need. This first-party community data captures the full engagement and passion of your users. It gives you information about your fans' consumption, interests, actions and reactions all in one powerful data set.
98 unique event types per user —
a 240% increase over basic site analytics
Build corporate partnership
add brand value
Teams and brands are looking to create more targeted and experiential campaigns that can add value to their fans and sponsors. With Viafoura's deep, insightful first-party data you can rest assured that you drive the right ads to the right audience and build marketing campaigns that will resonate, and it all starts with great fan engagement. It's a win-win all around!
Drive your business goals with any combination of solutions
Using any, or all of these solutions to drive fan engagement, ticket sales, brand engagement, corporate partnership, and brand activation.
Use Live Blogs to deliver insightful content in real-time
Provide your fans with the insight they crave during any sporting event by continuously updating your live feed. Publish content and commentary in real-time, post player stats and automatically ingest social posts and feeds into your live blog.
Whether you want to live blog a multi-day event or use Live Blogs on a single sporting event, the choice is yours. Either way you have an open channel to provide engaging content to your users.
Learn More
Enable your audience to engage with you and each other using Community Chat
Bring your fans together at your next event by hosting a real-time Community Chat. Your fans will love the opportunity to easily converse – and they'll present themselves into the experience in a real-time sequence – building an easy to follow discussion.
Learn More
Use Conversations to have your fans engage before, during, or after events
Give your fans the opportunity to engage on a variety of topics before, during or after events with Viafoura's Conversations. It's like a digital tailgate party that everyone can join – encouraging your community to flourish even when you're not actively involved.
Conversations give your audience the power to voice their opinion, feedback and comments and create highly engaging discussions – and, if you have multiple concurrent sessions, you can also promote all trending conversations between users in a single place through our recirculation feature.
Then enable your fans to follow content tagged with their favorite team, player or category and give them a personalized feed to serve up the content they're most interested in.
Learn More
Engage and activate your audience with a Live Q&A event
Easily host a Live Q&A event with a moderator or a subject matter expert (sports journalist, commentator, athlete, coach, etc.) right on your own website.
Because you can schedule the Live Q&A in advance you'll have lots of time to promote the event on your website or newsletters, or even have your audience submit questions in advance. It's a great driver of registrations, engagement and audience building!
Learn More
Keep conversations civil and brand-safe during virtual events with our Content Moderation
Keep all participants including attendees, facilitators, and sponsors comfortable enough to voice their thoughts during your virtual gatherings.
Our AI-powered Auto-Moderation Engine goes beyond a simple banned word list. It actually helps enforce your community guidelines, custom-built to your audience, and their nuanced language. It also accurately moderates toxic content before it gets posted, reducing your total moderation efforts by over 90%.
Learn More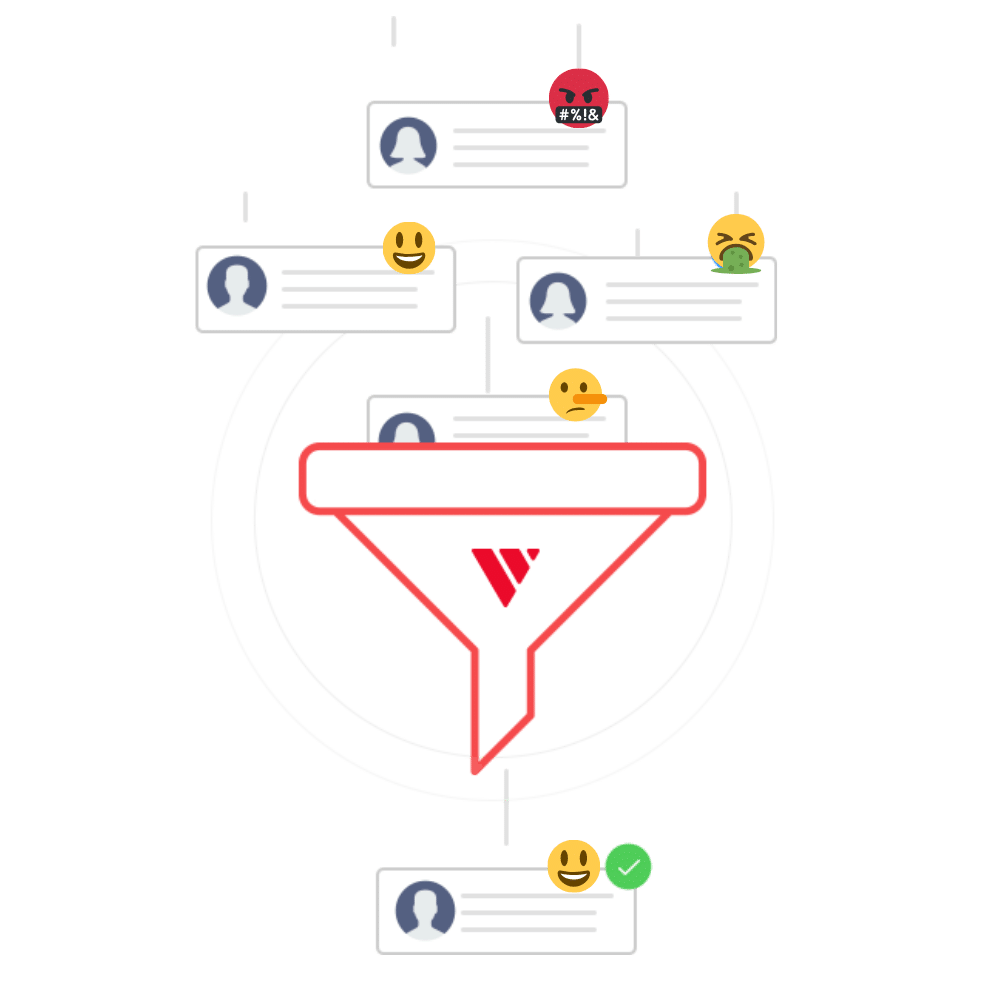 Drive personalization and deep audience segmentation with Viafoura's unique real-time data
Send your data into hyperdrive by enriching a user's declarative / first-party information with Viafoura's unique data insights (i.e. interests, sentiment, propensity, recency, frequency, and volume, etc.). Our data platform goes far beyond gathering simple data. With Viafoura you can:
Create unique fan experiences by enabling users to tag their favourite users, writers or content and then leveraging data, such as sentiment, likes and dislikes, you can ensure you're providing the right personalized content experience.

Mine your data for purchase indicators and send those users unique offers

Use deep data analysis to segment your audience like never before ensuring that your campaign value and performance is maximized and affiliated brands get an engaged and appropriate audience like they never had before
Learn More