The FIFA World Cup is expecting over 5

billion viewers
Take advantage of the second screen experience and drive an:
See How
Accelerate the growth of your first party data
Build direct relationships with your users and prepare your business for a world without third-party cookies.
Automate your on-site
customer acquisition.
Up to 86% of our customers' new user registrations are directly attributable to Viafoura's suite of social engagement experiences.
Enhance on-site personalization
14x your pageviews with our suite of personalized user engagement experiences!
Activate your online audiences.
Build direct relationships with your users and prepare your business for a world without third-party cookies.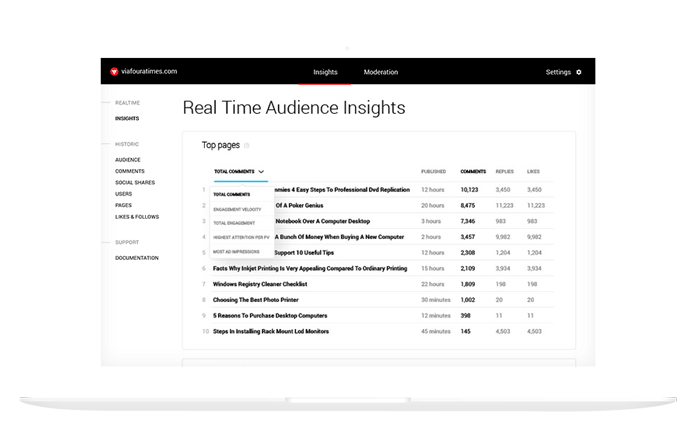 Increase your site monetization.
Registered, engaged readers increase your revenue 40x!
Improve user retention.
Our solutions help customers increase weekly retention by over 200%!
Build a civil community and drive up
subscription

and

ad revenue

.
Stop stitching together products to drive conversion that don't talk to each other, create data silos and offer a clunky user experience.
Viafoura offers an end-to-end solution that makes your content a subscription magnet. It helps you uncover loyal subscribers faster and convert more of your traffic.
Read our blog to keep up with the latest news in audience engagement, development, and insights. The Viafoura Hub features tips, how-tos, and links to our latest white papers and customer case studies.
Make your Content Sticky
Add social features including a personalized Newsfeed and Push notifications across your site or app. Make it simple for users to create an account using Identity Management and to follow authors, other users, topics & content categories.
This personalized experience across your property will drastically increase the number of page views and time spent on page (or in app).
Customers' have seen open rates of 73% and click through rates of 27.6% using Viafoura's push notifications.
Immersive Social Experience
Enable Real-time Engagement Tools
Entice your community to comment and communicate with each other and your team. We offer a range of ever-growing, light-weight and mobile friendly engagement tools that increases the average time on page per user.
Of course engagement tools are pointless if you can't ensure your community guidelines are being enforced 24/7.
We got you covered in the next step.
Moderate for Civility
Civility promotes more engagement.
Our engagement tools come with a highly accurate, best-in class Intelligent Auto Moderation engine that will capture up-to 95% on uncivil comments. Your human moderators can focus less time dealing with the worst of your community, and more time highlighting the best of your community.
Moderation for Civility
Use Signals to Optimize your
Paywall and Ad Inventory
Get access to a whole new layer of data that includes all engagement, time spent on engagement tools, follows and on-site interactions to trigger your paywall at the perfect time and capture more subscribers faster.
Audience Insights
"We didn't want to simply replace our old platform with a similar one; we were looking for game-changing technology that could improve reader engagement and provide us with a suite of features to help us build our communities and Viafoura gave us that"

The Independent
"Viafoura's platform has been instrumental in upholding our commitment to creating a respectful, safe, and welcoming community."

CBC
"We are delighted to be in partnership with Viafoura in order to enter this brand - and brave - new world of building deeper relationships with our readers. There is no bigger gateway to a passionate, opinionated audience than sport, and there is no bigger sport than football in the UK. I'm excited to see where else we can go, and what else we can do, with Viafoura in the future."

Reach PLC
"You get the community you deserve, you need to invest in it, so we are happy to have found a platform with moderation and engagement tools that will build trust and encourage quality conversation and relationships."

The Philadelphia Inquirer
"Viafoura is a much-needed and welcomed enhancement to Graham Media Group, improving the user experience and increasing audience engagement."

Graham Media Group
"We chose to replace our proprietary tools with Viafoura to provide our audience with feature-rich capabilities that now allow our audience to comment in real time and also gain a personalized experience around the content and community we work to create."

20 Minutes
"We have found a ton of value in utilizing Viafoura's Live Blogging for Tropical Storm Imelda. It's become a great place to include short updates, social media from our reporters and a social feed from others."

KPRC-TV